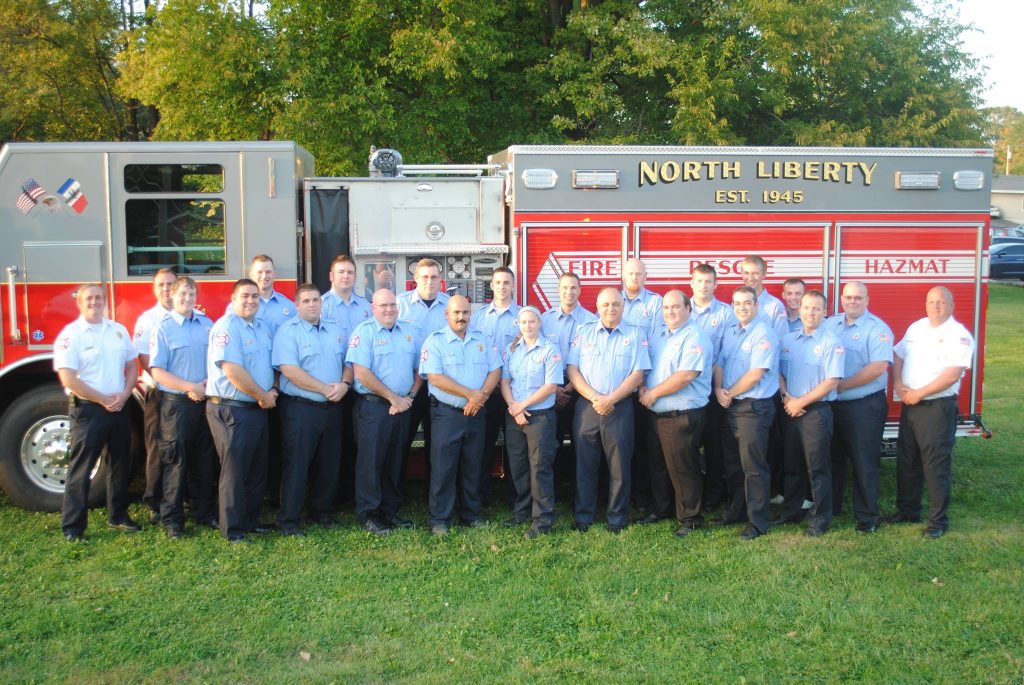 North Liberty Fire Department – Serving North Liberty, Iowa (Between Cedar Rapids & Iowa City). With response area including City of North Liberty, Penn Township, & Madison Township.
Total Sq. Miles Protected by the North Liberty Fire Department
(City of North Liberty 5.79, Penn 15.5, Madison 17.8, & Coralville Lake 17)
Total Population in Fire District that includes North Liberty, Penn, and Madison Townships
Total Number of Calls for Service in 2016
Current Members – 3 Part-Time (Fire Chief & (2) Assistant Chiefs) & 42 Volunteer Fire Fighters
Our Mission Statement & Motto
"Devoted to the protection and preservation of life and property in the City of North Liberty and the townships of Penn and Madison."
"Training Today For Tomorrows Response."
Vision
The vision of the NLFD for 2016 is to internally foster an environment that promotes trust, respect, and collaboration. We recognize that trust is the cornerstone of the American fire service, and we will promote an internal culture that reflects a friendly and team-oriented atmosphere. We will continue to respect the great sacrifices of the volunteer firefighter and understand that we are stewards of the reputation of the fire service. We will continue to collaborate internally for the overall improvement of the organization and turn externally to explore best practices in the delivery of fire and emergency medical services as well as show good will.
Our commitment to excellence through innovation and preparedness will be a priority provision for all those living, working, or visiting our community. Our leadership and volunteers will hold one another accountable for applying our mission and values, while continuously striving to reach our goals.
Values
As an organization, we value:
Family – to those that support us at home and to the people and families in our community we impact through our service.
Safety – in striving to protect the lives and well-being of our community and our peers.
Professionalism – in people who are devoted, compassionate, trustworthy, and who act with honesty and integrity.
Respect – for our community, ourselves, our team.
Innovation – via an environment that allows for new ideas and positive change to better serve our community.
Read the 2016 North Liberty Volunteer Fire Department Annual Report.