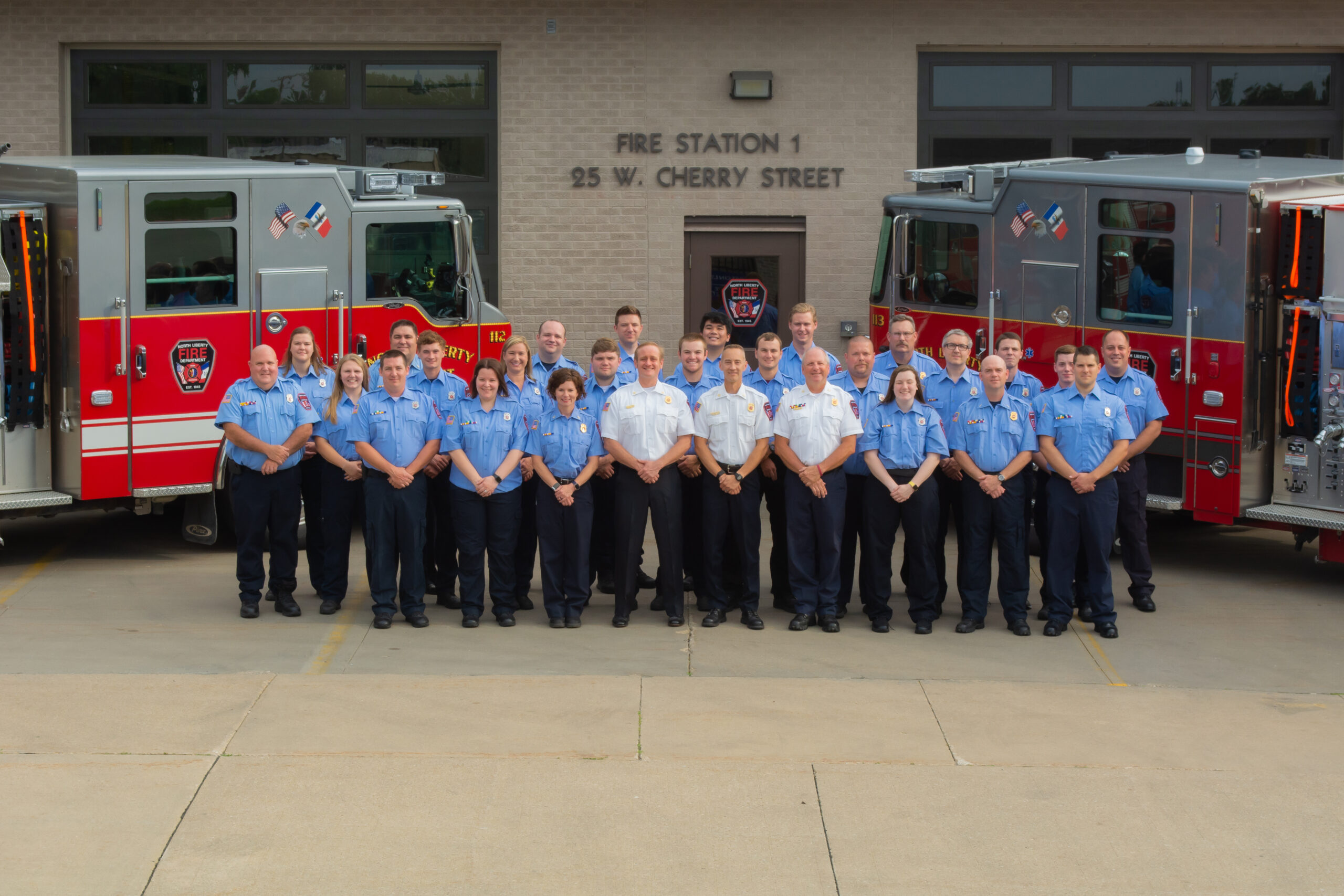 North Liberty Fire Department – Serving North Liberty, Iowa (Between Cedar Rapids & Iowa City). With response area including City of North Liberty, Penn Township, & Madison Township.
Total Sq. Miles Protected by the North Liberty Fire Department
(City of North Liberty 5.79, Penn 15.5, Madison 17.8, & Coralville Lake 17)
Total Population in Fire District that includes North Liberty, Penn, and Madison Townships
Total Number of Calls for Service in 2020
1 Full Time Chief, 1 Full Time Training Captain, 2 Part Time Asst. Chiefs, 14 Part Time Firefighters, 42 Paid-Per Call Firefighters
Our Mission Statement & Motto
"Devoted to the protection and preservation of life and property in the City of North Liberty and the townships of Penn and Madison."
"Service Over Self"
Vision
The members of the North Liberty Fire Department envision an organization that embraces continuous improvement through numerous, specific initiatives.  These initiatives will be guided by our values of professionalism, family, pride, and inclusiveness.
A priority of this organization's is to develop operational goals.  As outlined in this document, we will explore alternative deployment models with the intent of reducing response times to emergencies.  The NLFD will research best practice models in order to identify and develop a model which works for our community.  We will assist in guiding this process as well as help direct other initiatives sought out by the department.  Utilizing a best practice approach can yield ideas, data, and operational models that the NLFD can tailor to match the projected needs of our growing community.
The NLFD places the highest value on the preparation of our members to meet the challengers of the mission and the expectations of the community we serve.  We are committed to developing and implementing a high-quality training program that ensures top level performance from our members.  The NLFD will promote skill acquisition and education through various in-house training opportunities, grant funding for scholarships, and local and regional training offerings.
Providing the community with proactive messages, outreach, and risk assessment, can prevent the occurrence of emergencies.  The department will employ measures which provide contemporary information and risk reduction strategies that will reduce the need for emergency services.  An ounce of prevention is worth a pound of cure.
Lastly, the NLFD envisions exploring various means of collaboration.  We will continue to collaborate internally towards continuous improvement of the organization and turn externally to explore best practices in the delivery of fire and emergency medical services.  We will collaborate and share resources and information with local fire, police, and ambulance services.  As a cohesive team of public servants, collectively we can find operational opportunities that provide the highest level of service to the community.
Values
As an organization, we value:
Pride

We strive to deliver a service that is looked upon in high regard.
We will celebrate the achievements and successes of those within our ranks.

Professionalism

We strive for competence in service delivery.
We treat each other and those we serve with a high degree of integrity.

Inclusiveness

We're accepting of each member of our organization.
We will respond in a manner that is non-judgmental and provide exceptional service to anyone in need.

Family

We will lift up those around you.
We will treat all with high moral standards.
We are accountable to each other.