Native Prairie Burns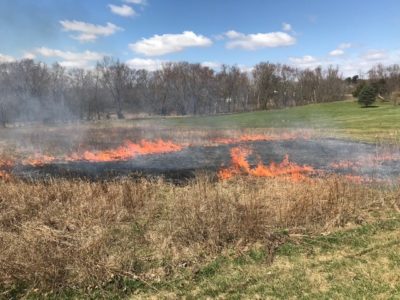 Native Prairies may be burned in the City of North Liberty with a valid permit.
Requirements:
Sites that are dominated by native prairie species or have been planted to native prairie species.  Weedy sites may be burned in which prairie species have been planted but are not yet dominant.
A.   Any person interested in conducting a native prairie burn shall submit an application to the Fire Chief a minimum of fourteen (14) days in advance of the proposed burn.
B.   The Fire Chief shall ensure that persons conducting the native prairie burns possess the experience and training necessary to conduct such burning safely. C.   The Fire Chief shall approve sites, dates and times for the burning to occur.
D.   The Fire Chief shall develop posting and notification requirements.
E.   All the following conditions must be met:
         (1)   Full compliance with all state and county laws, regulations and rules;
         (2)   Full compliance with prairie burn standards set by the Fire Chief; and
         (3)   Issuance of a permit by the Fire Chief, subject to any conditions and limitations set by the Fire Chief.
F.   Any owner who burns prairie sites as permitted by this section shall be fully responsible for conducting the open burning safely and in accordance with applicable fire department, city, county and state standards at all times; shall be liable for any damages to persons or property that arise from the open burning; and shall hold the City harmless for any such damages.
Applicant shall possess the following certifications:
Permit Resources:
Notice of Approved Upcoming Native Prairie Burns
Applicant:
Applicant: City of North Liberty
Dates: 03/20/23-04/14/23
---
Applicant: Quercus Land Stewardship Services
Dates: 04/02/23-04/23/23